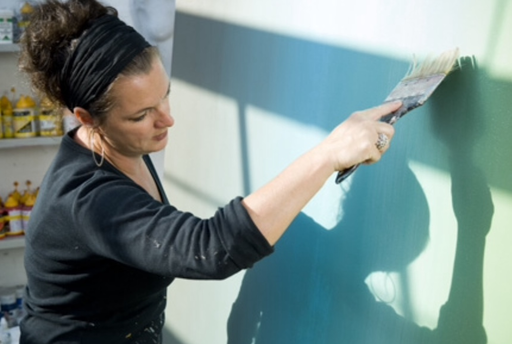 Margret Mijsbergh (De Zilk, South Holland) is a Visual Artist.
Mood, movement and serenity are important principles in my work.

I create bold paintings with lashings of blue, red or yellow. Primary colours- which I combine with warm, earthy tones- are key in my work.
I want my paintings to evoke a certain ambience, to get people thinking.
I want them to be able to recognise themselves in my paintings. I'm working more and more with abstract themes, because they make for a stronger narrative element

Narrative
The coloured areas and lines form the basis for telling your own story.
Especially the deep blues, warm reds and yellows, juxtaposed with the beige and browns. The dramatic colour contrasts create tension in the work, and yet the paintings remain balanced, in equilibrium, at the same time. I paint bold areas of colour with a lot of movement on a serene backdrop of soft, diffused tones.
A painting or series is often inspired by something tangible. A concert, people on the street and a landscape provide the story lines for a composition. The style is abstract, but the work remains accessible and easy to understand. My move towards the abstact was a natural progression from my personal style of working- I paint mainly on instinct. The current canvas provides the subject for the next painting.
My most recent work is serene and more contemplative.

Background
All my paintings are, perhaps surprisingly, inspired by their background, which not only sets the tone but is also becoming increasingly important. It has to be perfect, otherwise I cannot continue. The background colours are applied in a variety of soft shades. On top of that I paint my story in thick impasto acrylics. The paint is so thick that it creates shadows on the background, adding a subtle sense of depth.
The paint is drizzled across the canvas in slender, vivid tendrils to create powerful, undulating movements that entice the viewer to reflect and look again. So you can keep discovering another surprising detail and a new story in every painting.
Contact : margretmijsbergh@ziggo.nl